Etta Biotech and Jianshun Biotech jointly promote in-depth strategic cooperation
---
Suzhou Etta Biotech Co., Ltd. ("Etta Biotech") announced today that it has established a strategic framework cooperation relationship with Gansu Jianshun Biotech Co., Ltd. ("Jianshun Biotech"). The transient high expression platform provides exclusive medium supply, and establishes a rapid protein production platform in Jianshun Biotech," reached a comprehensive cooperation intention.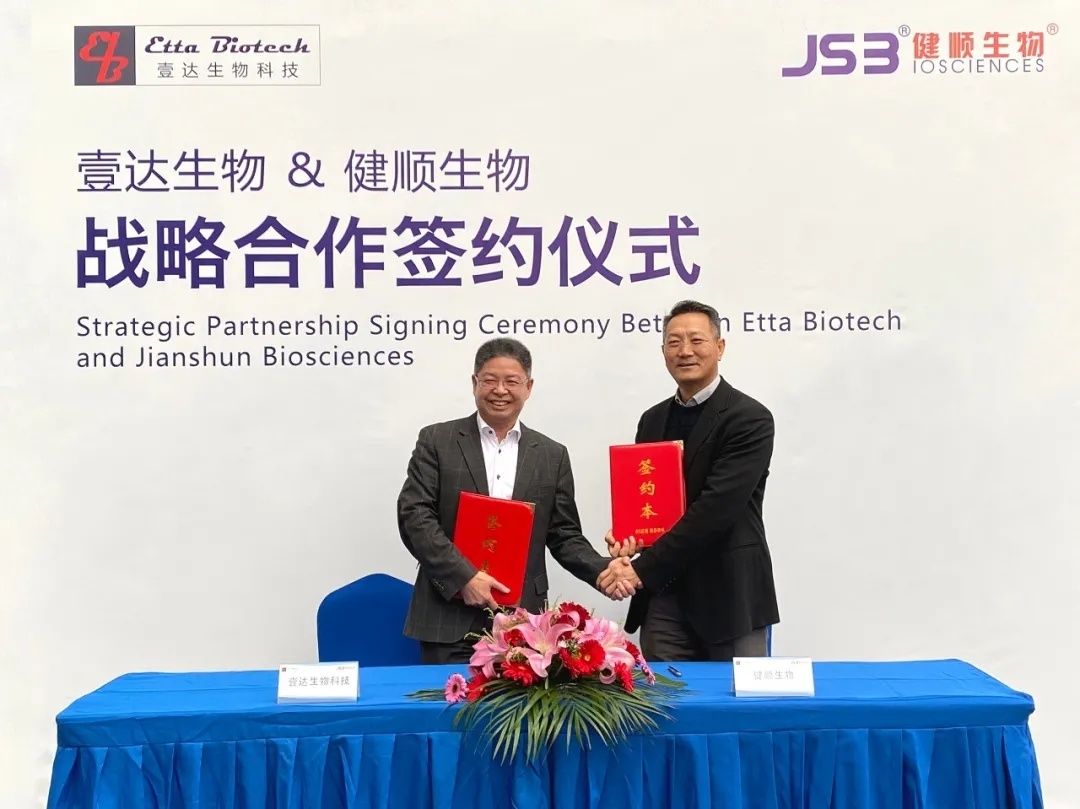 ▲ Dr. Dai Xiaobing , Chairman and CEO of Etta (left), Dr. Luo Shun, Chairman and President of Jianshun (right)
Etta Biotech is a professional cell electrotransfection technology and equipment supplier. Its large-capacity flow electroporator X-Porator F1 with independent intellectual property rights is one of only two products in the world, and with its excellent performance and Customer value is in a leading position in the market. Etta Biotech F1 equipment includes a complete process optimization program, which can significantly increase the protein transient expression level, reduce costs for customers, and shorten the development cycle. It is the standard equipment for the protein high-expression transient platform and has served domestic antibody drugs and drugs. Many benchmark companies in IVD.
According to the cooperation agreement, Jianshun Biotech will provide Etta Biotech with the development and production services of serum-free, personalized chemical composition defined cell culture medium suitable for electrotransfection. The two parties will also carry out in-depth technical cooperation to establish a rapid protein production platform, which can prepare proteins for R&D at a gram level or more within two weeks after obtaining the plasmids, and rapidly advance the clinical process of antibody drugs. With this cooperation, Jianshun Biotech will accelerate the extension and application expansion of Etta Biotech technology and products in the antibody drug R&D and production process chain by virtue of its own perfect quality and service system.
Dr. Dai Xiaobing, Chairman and CEO of Etta Biotech, said: "I am very pleased to have the opportunity to cooperate with Jianshun Biotech, a benchmark company in the field of culture media. The special culture medium developed by Jianshun Biotech for Etta electrotransmitter can not only further enhance the customers of Etta products. The yield of protein, and can provide more reliable quality and supply chain guarantee for Etta's transfection technology platform. Correspondingly, Etta will help the market expansion of Jianshun medium, and research and develop a protein that can support more than 100 upgrades. The electrotransfection equipment of the transexpression system empowers the CDMO service platform of Auscom Biopharmaceuticals of Jianshun Biotech Group. This is a strong cooperation, mutual benefit and win-win cooperation."
Dr. Shun Luo, Chairman and President of Jianshun Biotech, said: "At present, we and Etta Biotech have made great breakthroughs in the development of protein transient high expression platform and protein medium-batch production system. With professional electrotransfection technology and Equipment, Etta Biotech has reached the leading level in the international segmentation field. I am very honored to be able to reach a cooperation with Etta Biotech. In the future, Jianshun Biotech will continue to use our advantages in the development of personalized serum-free culture media and large-scale continuous supply of culture media. , And win-win cooperation with Etta Biotech, and jointly promote the development of the biopharmaceutical industry."
▲ Group photo of both parties
---