Good news! Etta Biotech has successfully passed Intellectual Property Management System Certification!
---
On December 9, 2019, Suzhou Etta Biotech Co., Ltd. successfully obtained the certification for the implementation of GB/T 29490-2013 Enterprise Intellectual Property Management System and National Standards (hereinafter referred to as Implementation Standards).
The company has passed the two-day comprehensive, rigorous and meticulous on-site audit conducted by the evaluation experts on the intellectual property operation status and documents of all departments of the company, marking that the company has established and operated a comprehensive and effective intellectual property management system.This is an affirmation of the company's continuous investment and improvement in technology innovation and intellectual property management over the past two years. It is a new height of Etta intellectual property management!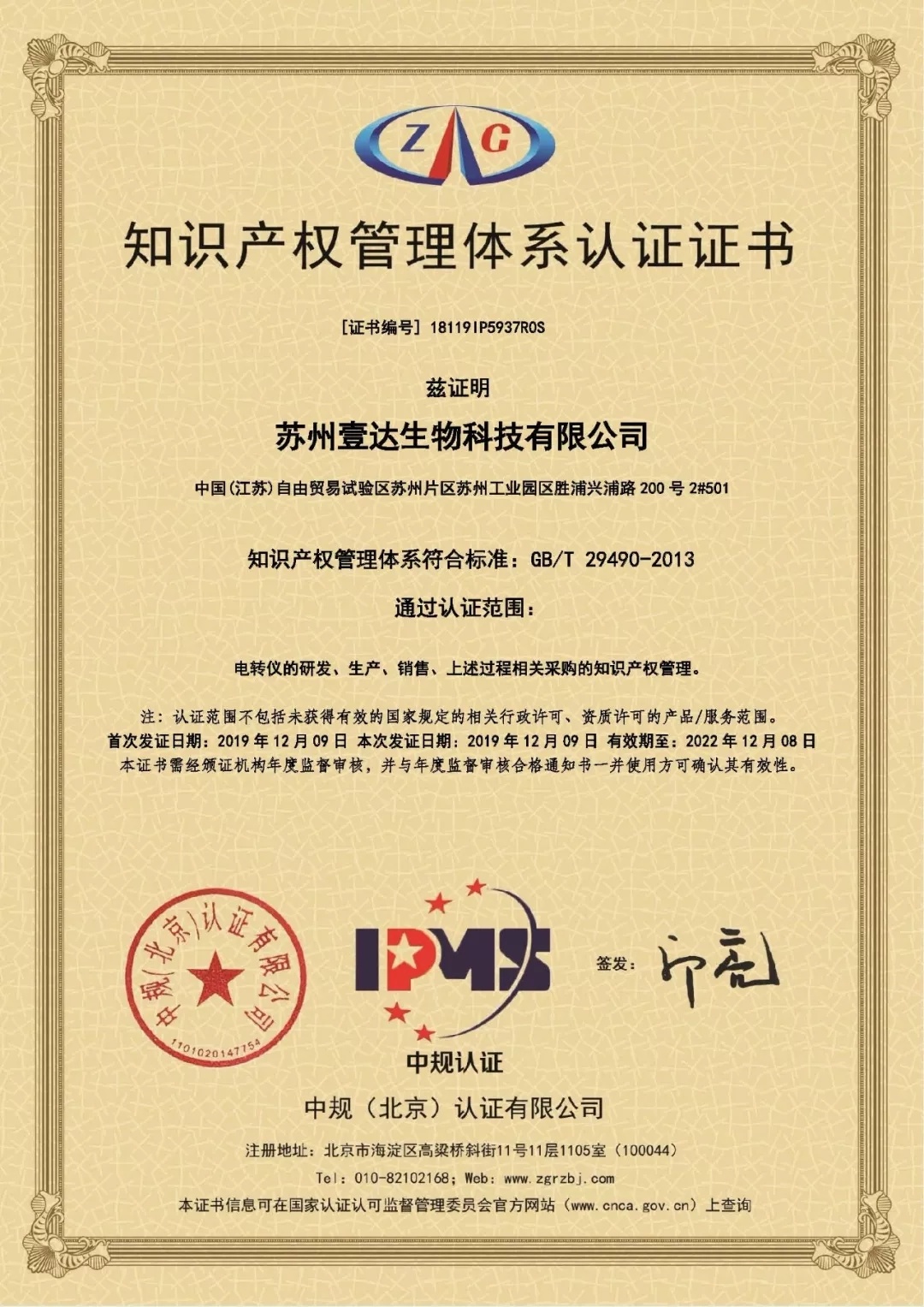 ▲ Intellectual property management system certification
Since 2017, under the great attention and leadership of Dr. Dai, CEO of the company, employees of all relevant departments have actively participated in the implementation of the requirements of the enterprise's intellectual property management norms, ensuring that the company's intellectual property management and operation is consistent with the intellectual property policy and objectives. Dr. Dai said, in the market competition, independent intellectual property rights are the core competitiveness of Etta products. As a professional manufacturer of electrotransfection instruments, we always attach great importance to innovation and regard innovation as the basis for survival and development. Up to now, Etta Biotech has authorized and applied for a total of 55 patents in the field of cell electrotransfection, including 27 invention patents, 23 utility model patents, 6 PCT applications, including 3 in the United States, 2 in Europe, and 5 design patents.
The introduction of "Enterprise Intellectual Property Management" will help the company to explore its own existing intellectual property, improve the staff's awareness of intellectual property management and protection, maintain the company's innovation momentum and vitality, improve the design and development and technological innovation ability, and support the sustainable innovation and sustainable development of Etta Biotech.
Intellectual,Property,Management,System,Certification
---