全部
全部
产品管理
新闻资讯
介绍内容
企业网点
常见问题
企业视频
企业图册
Etta Biotech was Awarded the Gusu Innovation and Entrepreneurship Talent Project
---
After the complex procedures of our company's applying, relevant authorities to review and recommend, experts review organized by Suzhou Science and Technology Bureau, Etta Biotech has enrolled into the first round of Gusu Innovation and Entrepreneurship Talent Project in 2016, and successfully passed the publicity period from Aug.31 to Sep.6, 2016. Recently, Etta Biotech has obtained the supported certificate of Gusu Innovation and Entrepreneurship Talent Project.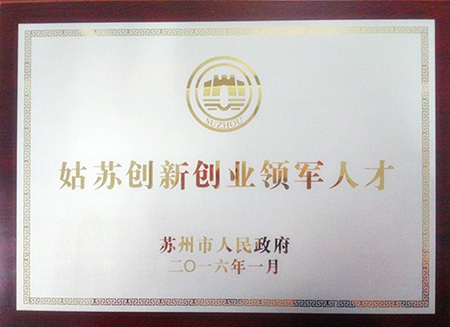 Gusu Innovation and Entrepreneurship Talent Plan supports the companies in the fields such as newly emergent industry, modern service industry and modern agriculture etc, especially the innovative entrepreneurship talent (team) in key industry areas including nanotechnology, new generation of information technology, high-end equipment manufacturing, new materials, new energy and energy saving environmental protection, biological medicine and medical equipment etc.
Supported by the Gusu Innovation and Entrepreneurship Talent Project could illustrate that Etta Biotech has been highly recognized by the Suzhou municipal government by its industrial development distribution and exclusive patents HiDEN technology as well as the related products. We will carefully listen to users feedback, pay attention to all the details including the users experience, the continuously improve the current products and launch new products with good performance, provide the customers with more perfect, safe and reliable products.
---
Etta Biotech Co., Ltd. Copyright
© 2014-2022 All Rights Reserved
苏ICP备19051029号