【3rd Anniversary】Etta, happy birthday!
---
Etta is 3 years old. Although the process is quite difficult, we have been through it with a clear goal and firm determination.
Lots of achievements have been obtained through the Etta's rich technical experience and the persistent spirit into the research and development of electric transfection technology and its products over the 3 years:
▶ In Sep.2015, Etta's electric transfection apparatus X-Porator H1 came into the market, filling the blank in the domestic high-level transfection apparatus market. Till now, the sales volume of H1 has been up to 70.
▶ In Aug. 2016, Etta has been awarded the "Gusu Entrepreneurship and Innovation Leading Talent".
▶ In Nov. 2016, Etta has received the prize of "New and High Technology Enterprise".
▶ In Mar. 2017, Etta has attended We Are The Hero in CCTV-2 and won the affirmation of the investors.
▶ In Aug. 2017, Etta has won the first prize in The Fifth Jiangsu Innovation and Entrepreneurship Competition with the highest score.
▶ In Dec. 2017, the X-Porator F1 with the highest transfection volume up to 250ml came into the market, and Etta becomes the second super transfection volume apparatus supplier succeeding to America, and it will win the recognition of clients and the market with better product performance and cost performance, meeting the requirements of scientific research, antibody drug production and cell immunotherapy with super large scale transfection.
Meanwhile, we are not satisfied about that. Aiming at ISO13485 Qualification Management System, Etta has established a whole set of standardized quality control system towards research and development and producing process to improve and make sure the stability of the product.
It happened that Doctor Stephen Ekker from Mayo Clinic(established in 1863, the largest clinic in the United States with most advanced comprehensive equipments and medical system) came to visit us on that day. He brought order of X-Porator H1, the first order in the United States, and he would like to cooperate with us in the immunotherapy field, which made a new starting point for Etta to open the international market and conduct the international cooperation.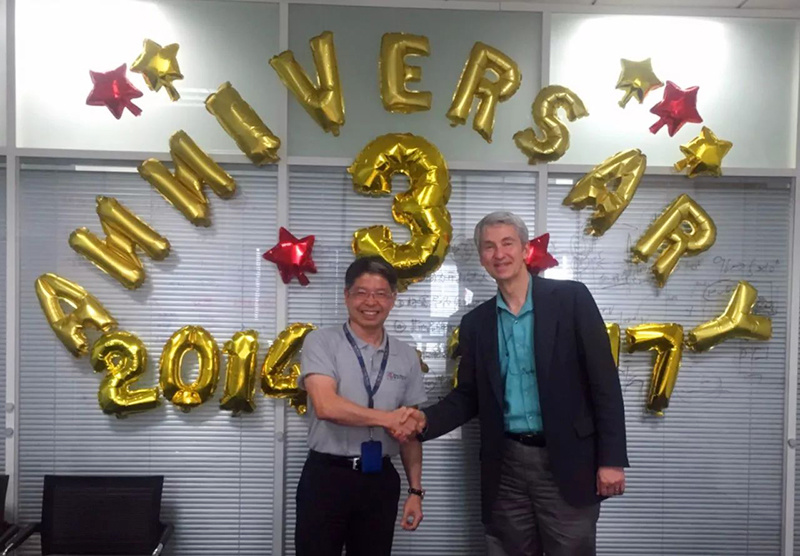 Photo of CEO Mr. Dai and Dr. Stephen Ekker
On this day of celebration, all Etta's staff sincerely thank the clients, partners and leaders in Industrial Park for your support and help, and look forward to your continuous attention and support. We will work hard as usual to provide much better products to make contribution to the clients and the society.
Congratulation to Etta Biotech, happy birthday on the third anniversary. And Wish Etta have a sustained and healthy development and create great glories again.
---